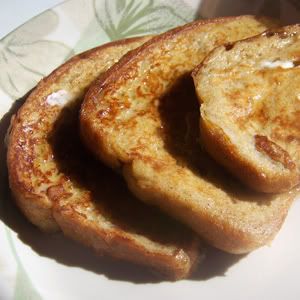 Gus has decided he wants us as a family to start eating less processed foods. So the first things we are trying to change are snacks and breakfast. I came across this recipe in a new cook book I got yesterday from a forum I am on called MOMYS. Every recipe in the book is laid out to feed at least 8 people which one day I will need since we are now a family of 5 with plans to expand more. With the exception of the white bread I used, a pretty good breakfast. (I need to start baking bread again) :)

Scrambled French Toast


4 eggs

2 cups of milk

2 tsp vanilla

1 tsp cinnamon

1/2 tsp nutmeg

12 c of cubed day old bread

3 tbsp butter

1/3-1/2 cup sugar


In a large bowl, beat eggs. Add milk, vanilla, cinnamon and nutmeg. Add bread cubes and toss, let stand for 5 minutes. Melt butter in large skillet. Add bread cubes and stir until cooked and browned. Gradually add sugar a bit at a time, stir to coat evenly. Cook until all sugar is dissolved Yields 6-8 servings.

I cut the recipe in half, used 3 eggs and less milk and I used fresh bread since I just decided to try this spur of the moment. I also do not have nutmeg so did not add that either. It turned out just fine. I added sugar just a bit at a time until just sweet, it makes it sweet enough to not need syrup. I would say prep time was about 5 minutes and cook time around 10 to make sure all was cooked well.